Contact us to add your Member Discount
The generosity of our membership extends to other members through the offering of discounts on products or services to other members as listed below:
Americu-CU: Provide free credit counseling, provide business insurance, payroll services.
Benefit Consulting Group, Inc.: Analysis of current coverage's and assistance with benefit implementation.
Benefit Specialists of New York: Health insurance benefits for Chamber members, including Health, Dental, Vision, Life, and Disability.
Better Hearing of Madison County, LLC: Complimentary Hearing Screening
BigShotNow: 10% off all website design and development, social media marketing & search marketing.
BME - Business Machines & Equipment: 10% savings on purchase of new Canon copier.
BRIDGES Mccasa: Discounts on Drug Free Workplace, Diversity & Respect in the Workplace, Smoking Cessation Training/Workshops.
Cinderella's Café: 10% Discount – Loyalty Card.
Common Energy: 10% savings on clean energy
Computer Solutions: 10% off total of service.
D'Arcangelo & Co, LLP: 10% Discount applicable to the standard hourly rates for the 1st year as a client for Chamber members.
Dec & Benson CPA's, P.C.: 15% off tax return preparation, payroll, bookkeeping, and consulting services for the 1st year as a new client.
The Eclectic Chic: 10% off total purchase for Chamber members.
Edible Arrangments: Coupons for a percentage off on arrangements.
Glenwood Discount Liquor: 10% off liquor and 20% off wine
Gustafson & Co.: 1/2 hour free initial CPA consultation for new clients.
H2ONEIDA: 10% off Home filtration systems. Free setup of custom labels for 16.9oz bottled water.
Hummel's Office Plus: Customized Ordering/Office Supply Discounts.
The Leatherstocking Group, LLC: Insurance Consultation: Quote and compare current policies with other companies, discuss coverage options and current policy(s).
NBT Bank: Initial order of Business checks free (Max $100)., First order Consumer Checks Free (Gray), Home Equity with NO CLOSING COSTS, Free Consultation with our Financial Advisor
Mazzullo & Sons Carpet One: Absolute best price possible offered to fellow Chamber members.
Oneida Animal Hospital: Free first exam for new clients.
Oneida Area Day Care Center: 5% discount for new enrollment of a child for first 3 months.
Oneida Dispatch: Advertising discounts – Call for details.
Oneida Floral & Gifts: 10% off purchases.
Oneida Laser Med Spa: Discounts available - Call for details.
Paws Claws Feathers & Fins: 15% Discount on Pet food & supplies.
Scharman Propane Gas Service, Inc.: 30% off residential FIRST FILL of your new tank.
Sherrill Manufacturing: 10% off Liberty Tabletop flatware. Contact Chamber Office for online code.
Summit Chrysler Dodge Jeep Ram: Free & discounted maintenance plans and/or service lane plans.
Vindigni, Betro & Walton: $50 off legal services.

Wilcox Travel Leaders: Free Disney themed gift when you book a 7 night Disney Parks vacation or Disney cruise.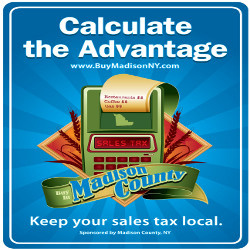 Greater Oneida Chamber of Commerce
136 Lenox Ave.
Oneida, NY 13421
P: 315-363-4300